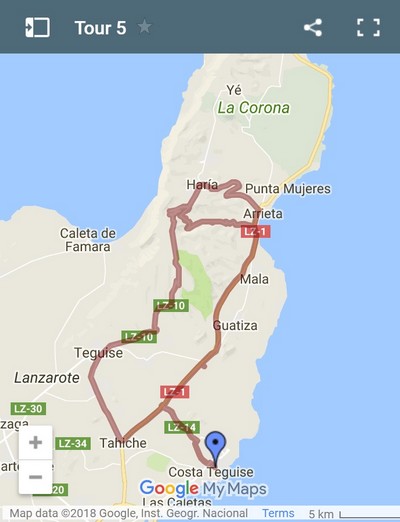 "mountains" ~70 km, ~1200 Hm

<--zoom map-->
Climbing and climbing - the valley of Tabayesco is it worth to do it 2 times.
You start the road to the north direction Guatiza, Arrieta and Orzola - and just before Arrieta you take the little road to Tabayesco to the left. There you can take a quick look at your watch. The following climb is the best you will find on Lanzarote. The climb is never to hard but steady, goes through spectacular landscape, has very few traffic and - if you reach the top under 30 minutes you made a good ride.
Reaching Haria you head down to Arrieta - almost flying down to the sea. Yet you are ready for a second try. You will have perfect training conditions in Tabayesco - you can take it more easy and enjoy the scenery on the first and on the second run you can try to break your mark - but keep in mind that another climb will follow directly afterwards.
The second time reaching the top of Tabayesco you head left - with more views over the sea rewarding your efforts - climbing up to the Mirador de Haria. Reaching the top you made 600 meters of climb in one section - so enjoy yourself and make a last view down to the beautiful valley of Haria and then - let it roll.
You can follow from here to Teguise, Tahiche and Costa Teguise - finally the relaxing part of the day.